The Lord has always spoken to me through visual means. Sometimes it is through a dream, a picture in my mind's eye, a painting or photograph or the beauty in nature. About a year ago the Lord captured my attention through a vision I had during worship at our church. As the worship time was coming to an end, I sat down with my eyes closed. As soon as I sat down I saw a lion only inches away from my face. He startled me. His eyes were looking into mine. I could literally feel his breath and fur on my face. And then he put his paws on my shoulders. The weight of them penetrated my being. I could not move, not because I was afraid, but because I was in awe. When the music ended, my eyes remained closed. I wanted to linger in the presence of the lion that I had just previously visited me.
That day my husband and I had planned to attend a Memorial Day Art Festival in Harrisburg, PA. I was determined to find a photo of a lion so it would remind me of the experience I had that morning. I wanted to put the photo in our prayer closet. I looked at many photographs that day and then found the perfect photo of a lion. The eyes of the photographed lion captured the strength and heart of the lion I saw in my vision. I explained to the photographer why I wanted the photo and he shared how his photography was his livelihood but also a ministry. That was a blessing.
In the months that followed I prayed and sought the Lord about what He was trying to show me through the lion. It appeared the Lord was calling me to a greater intimacy with Him and an impartation of courage. I believe He was preparing me to launch my art business to the next level. That level would require me to take risks and believe what God had told me about painting for Him. He wanted me to be bold, step out and believe.
So it was with great excitement when I saw the eyes of a lion begin to form as I intuitively painted one of my 30 paintings in 30 days in January of this year. As soon as I saw the eyes beginning to form in the paint, I went to get the photo of the lion in our prayer closet. I wanted to look at it so I could capture the intensity of his eyes.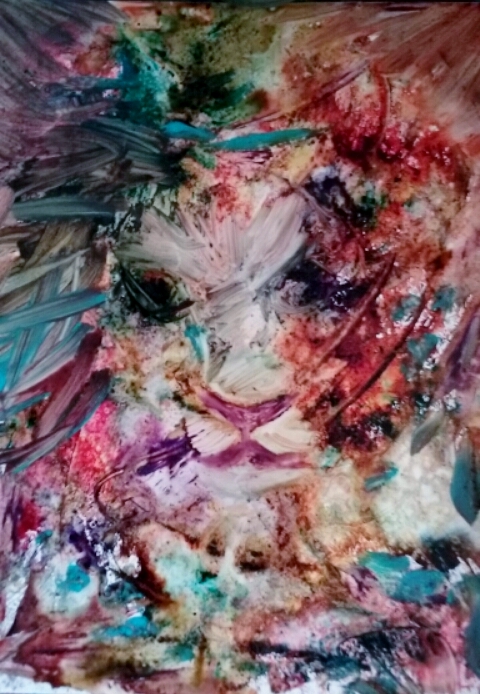 This was the "seed" of my painting. I further defined it until I had the image below.
Normally I don't look at a photo reference when I paint but rather rely on my imagination. This lion, however, needed to be as real as possible because I knew God was letting me paint the lion I saw in the vision and that lion was very real to me.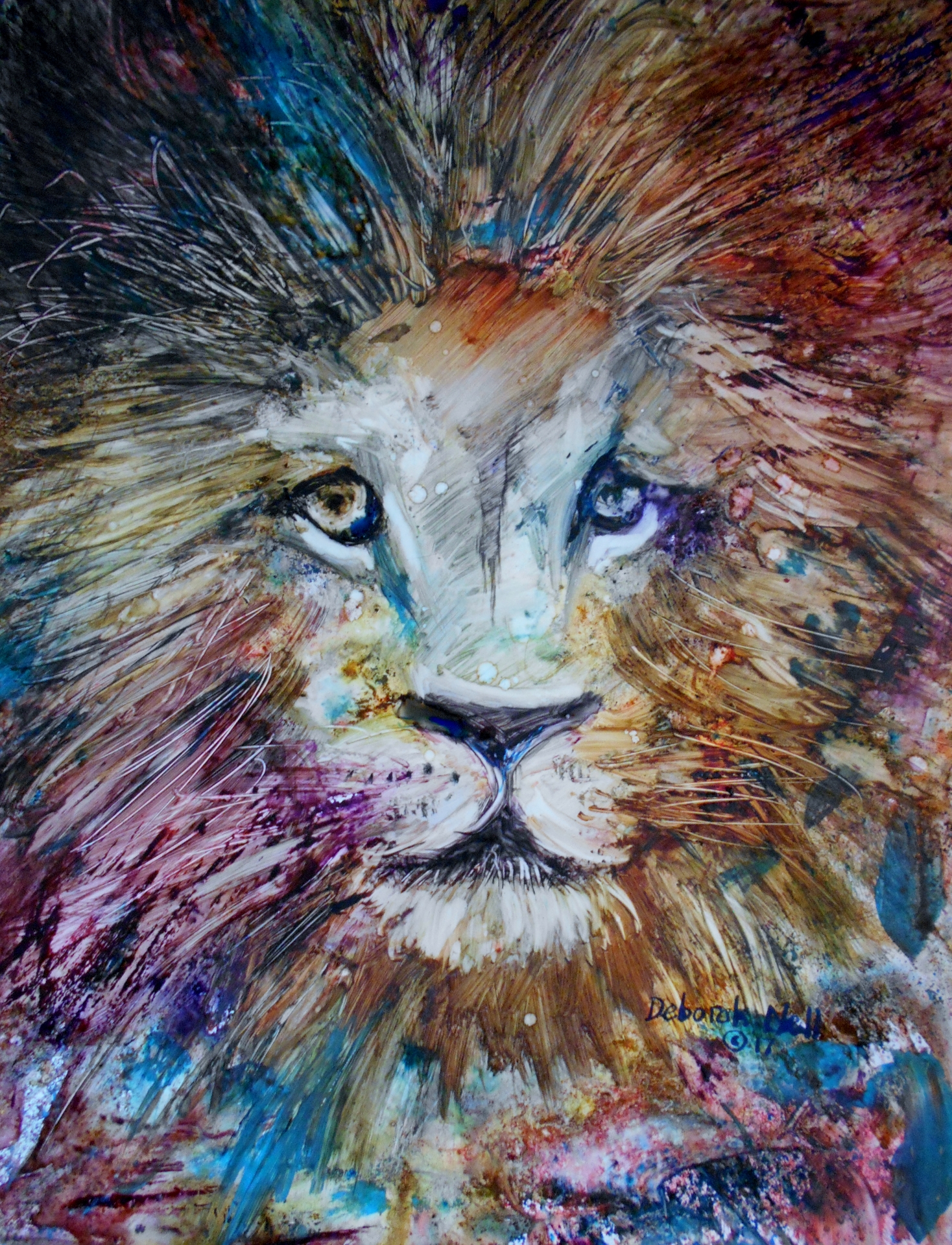 My finished painting of the lion I saw in the vision.
Just as there are many layers of color in this painting, there are many layers of meaning to the lion vision God gave me during worship. People who see it, often tell me of their lion stories and what God is showing them through a lion that has appeared in their dreams, visions or in His Word. I find myself needing more courage these days as I face greater challenges in our finances, in my art business and in my spiritual life. But then I remember the vision of the lion and I feel the breath and fur of the lion on my face. I feel the weight of his paws on my shoulders. God is with me. His strength and courage are with me. He sees me and He sent me a lion to remind me that sometimes He is like a lion. Sometimes He wants me to be like a lion too.
May this year be your year to be courageous and bold like a lion. May this image of "The Lion" encourage you.